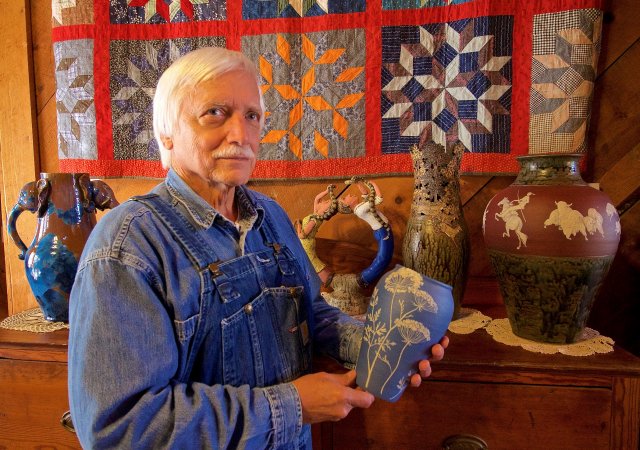 Rodney Leftwich
Rodney is a native of western North Carolina who treasures the historical folk and art traditions of the region. His high fired stoneware creations uniquely reflect their Southern Appalachian origin, inspired by both early folk pottery traditions and the natural beauty of the mountains. Drawing has always been Rodney's interest since an early age. His favorite work is incised and cut out with detailed images of farms, mountain people, animals, and waterfalls. Frequently scenes are drawn from memories of his grandparents or hours spent in the woods.
A humorous nature reveals itself in Rodney's unique folk figures. These may include possum or pig riders, Appalachian Noah's arks, or Adam and Eve ring jugs. His face jugs, glazed with wood ash glazes, are a Southern folk art tradition. Most work is created on the potter's wheel with incising or hand-built additions. Beautiful earth toned glazes, often created from wood ashes, native clays and minerals, complement each piece.
Rodney has been a potter for over forty years. He is a member of the Southern Highland Craft Guild and the American Art Pottery Association. He is the author of Pisgah Forest and Nonconnah, The Potteries of Walter B. Stephen. Also, he co-authored the book North Carolina Art Pottery, as well as numerous articles and exhibition catalogs. His unique pottery is widely collected and in numerous museums and private collections.
Leftwich Pottery, 126 Bane Road, Mills River, NC28759 (828) 890-3053 leftwichpottery.com