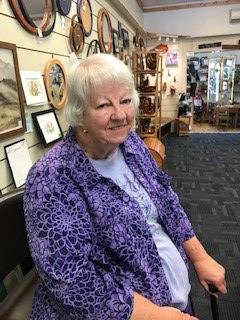 Elizabeth Lindsey is a Hendersonville native and long-time painter and crafter. She is well known in the area as "The Lampshade Lady" as her unique cut and pierced lampshades are her specialty.
She also enjoys painting on many different surfaces, including wood, glass, slate, fabric, ceramics, and canvas, and has added the art of making all occasion greeting cards, bookmarks and magnets, which are stamped, decorated with pastel chalks and embossed.
Elizabeth has been an instructor in the area for many years and says that introducing beginning students to the world of decorative painting has never lost its excitement for her.
Elizabeth is a charter member of the Guild and was instrumental in its formation.